Hotel Nacional - Belgrade
44.8268008863137

,

20.3850258886814
41US$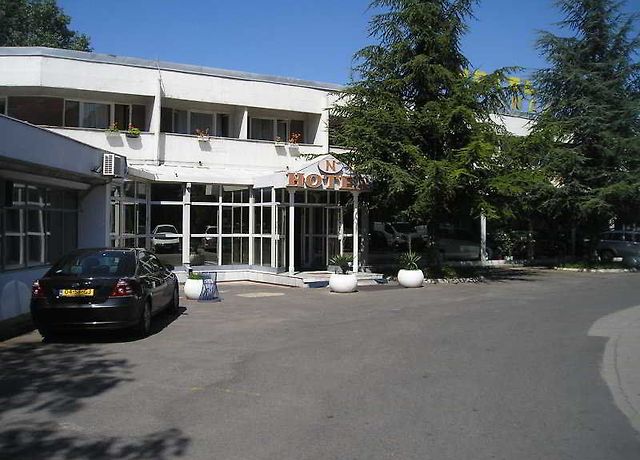 Highlights
Hotel Awards
According to guest reviews, the hotel has been rated as 
Use Badge
Address
Highway E-5 (Auto Put 5), Belgrade 11077, Serbia
,
Belgrade
,
Serbia
,
11000
, Central Serbia
Overview
Location
Nacional is placed in Novi Beograd district, within 2.7 miles of the sleek Museum of Contemporary Art. You can get to the center of Belgrade in about 15 minutes' walk. Knez Mihailova is in a 15-minute drive from this hotel.
Eat & Drink
Nacional offers on-site breakfast in the restaurant.
Internet
Wireless internet is available in public areas for free.
Guest Parking
Private parking is possible on site for free.
Number of rooms:   64.
Facilities
Most popular facilities
Free Wi-Fi
Free Wi-Fi in public areas
General
Free Wi-Fi
Parking
Food/ Drinks
No pets allowed
No Smoking
Bathroom
Private bathroom
Bathtub
Shower
Towels
Good to know
Check-in
from 12:00-23:59
FREE
Check-out
from 06:00-12:00
FREE
Children & extra beds
All children
0 - 5 years
Existing beds
FREE
There are no extra beds provided in a room. 
There are no cribs provided in a room. 
Pets
Pets are allowed on request.
Location
Highway E-5 (Auto Put 5), Belgrade 11077, Serbia
,
Belgrade
,
Serbia
,
11000
, Central Serbia
City landmarks
Nearby
Restaurants
Partizanske Avijacije 21A
Church of St. Vasilije of Ostrog
2800 ft
Gardos Hill
The Millenary Monument
2.0 mi
Church of St Basil of Ostrog
2800 ft
Sportski Centar 11. april
2100 ft
Mall
Zmaj Shopping Park
4100 ft
Masarikov Trg 3
Magistrate in Zemun
1.5 mi
58 Bulevar Zorana Dindica
Preka\u002FRabina Alkalaja
Mall
Immo Outlet Centar
1.2 mi
The House of Peace
1.2 mi
Church
Nikolajevska Church
2.0 mi
Bista Zambila Zabajeva
1.3 mi
Bezanijska Kosa Hospital
1000 ft
Restaurant
Restoran Institucija
2600 ft
Getting around
Airports
Nikola Tesla

(BEG)
8.1 mi
Train
Belgrade Central Station
3.7 mi
You can book a shuttle, once your reservation is complete.
Reviews
missing

The hotel is located very conveniently for those traveling on E-75 (from central Europe to Greece). The room was on the quieter side, and so I didn't hear any noise. Also, the hotel is separated from the highway by a small forest, and rhus one doesn't hear the noise. Breakfast was served till 11 a.m., which is good for those who like to sleep longer.

The hotel needs refurbishment. The room given to me wasn't really cleaned and prepared for guests, you could see cracks in the walls, etc. This hotel does not qualify for 3 star category. Breakfast was rather poor as well.

missing

hotel is very old & run dawn,it is a third world country hotel,very dirty.Thank God i only stayed there one night.Never again.

missing

Room price and price of dinner in HB

Old room, there was no hot water at shower

missing

Breakfast was good, although a bit basic. Nothing else was good.

The hotel and room were in very poor condition and seriously in need of demolition, not refurbishment. It was winter and the hot water heating was turned off, or broken, and small electric heaters were used. The shower took forever to run with warm (not hot) water. The blankets were too small for the bed.

missing

Бесплатная парковка и близкое расположение к дороге. Free parking and close arrangement to road.

It was cold. The Internet didn't work in number. Doors have been broken. Awful communistic atmosphere of last years.

missing

The staff. They were excellent.

The Hotel. Did not look anything like the photo's from the internet. The room was very poor and is definitely not worth 45euro a night. Ambience of a backpacker's hostel with the service of a 5star hotel.

missing

If you have a car, this is the best possible location. Hotel is old but wallue for money is exelent. Food is exelent and cheep. In hot days, you will miss A/C but that cost a lot in Belgrade.

missing

First of all I requested a non-smoking room and got one for smokers. The furniture was in very poor condition, very old, the TV remote wasn't working at all, no air conditioning, the windows could not be closed at all. Athough included in the room price, we didn't have breakfast because we didn't trust the food. I'm glad we stayed there in the last day of our vacation, on the way back, otherwise it would have ruined all our holiday. I definitely not recommend this hotel. Stay away!

missing

The style and the furniture reminds me at the 70`s. They was very old! The room smelled like a ash tray. The breakfast wasn´t good and it wasn´t allowed to sit outside of the breakfastroom. In my opinion it was to expensive !

missing

I liked the location of the hotel, the stuff was very helpful.

the hotel needs to be renewed. The rooms are nice, but everything looks old. The wallpapers are dirty and should be replaced. The bathroom should be renewed.

missing

Friendly staff, good breakfast, nearby at the airport, prices, good only for a few night

Old furniture, equipment bathroom, the hotel need renovation,

missing

It has an easy access from the highway.

the place is scrufy and worn out and badly needs to be renovated.

missing

Breakfast was very good, my expectations were lower (because of the price and look of the hotel), and it had wifi throughout the hotel which is also great.
FAQ
Which airport is the closest to Nacional?
Nacional is located 0.5 miles from Nikola Tesla airport.
Is breakfast included in Hotel Nacional Belgrade rates?
Yes, at Hotel Nacional Belgrade breakfast is included in the room price. For more details, don't hesitate to contact the hotel staff.
What is the earliest I can check-in at Hotel Nacional Belgrade?
At Hotel Nacional Belgrade you can check in from 12 PM till 11.59 PM on your day of arrival.
How far is Hotel Nacional Belgrade from the city center?
The city center is located 0.9 miles away from Hotel Nacional Belgrade.
What is the cost of breakfast in Hotel Nacional Belgrade?
Guests of Hotel Nacional Belgradecan have breakfast free.
Is free internet provided in Hotel Nacional?
Yes, Hotel Nacional provides internet free.
Are there any historical sites close to Hotel Nacional?
Monument of Gratitude to France is worth visiting, plus it is set 1.9 miles to from Hotel Nacional.
Where can I find Nacional?
Nacional is situated in Novi Beograd district 1.9 miles to Monument of Gratitude to France.
Does Hotel Nacional have parking on site?
Yes, Hotel Nacional offers free parking onsite.
How much does it cost to stay at Hotel Nacional?
The price for a room in Hotel Nacional starts at $41.